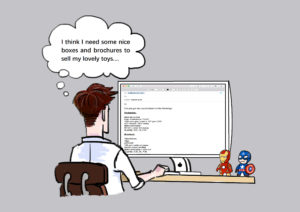 As we are factory rather than trading company, the price you get from us will be competitive and without any middleman.
In order to offer you an accurate price, please provide us as much information as you could. Please feel free to refer to the picture beside, you could see an example of giving us the quote information.
Do not worry if you have no idea of how to describe your project, please email our team with any of your thoughts and we would give you relevant advice. Also, you could send us a sample for reference in terms of the size, structure, material, color, and etc.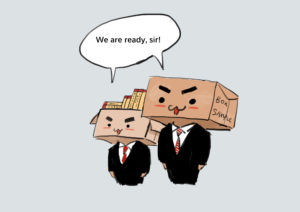 We do recommend our clients to get the sample before we go to the production as it is able to help both of us avoid the mistakes of structure, size, and many other details.
Normally, here are some sample options for our clients to choose:
Dummy/white sample - Size, material and structural reference, no printing, no finishing except for lamination.
Digitally printed sample - Size, material, content and structural reference, no finishing. Artwork is needed from customers. Contents are digitally printed rather than offset printed so the color cannont be matched exactly as the final production does. With digitally printed sample, you can have a more direct and specific reference of how your product finally looks like.
Printed sample- Most expensive proofing. This is used mainly to replicate printing processes using the actual plates, inks and paper. Sample will be exactly the same as what final products look like.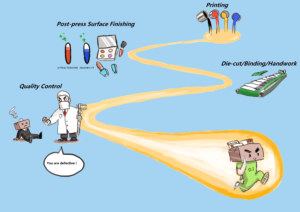 Productivity and product quality are both our objectives. As shown in equipment gallery, we have various machines that are mostly automatic. This allows us to provide you a one-stop service and a quick lead time.
When it comes to the product quality, ZiiBoxes have a professional Quality Control team which can be a safe pair of hands to manage the production procedure on your behalf. Their jobs include temperature and humidity test, tensile compression test, color-difference detection, etc.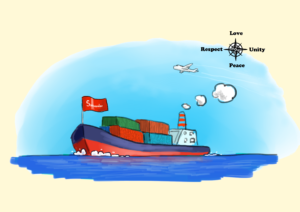 We understand how critical it is for customers to have their print materials delivered on time. Our experienced team would help you get your products completed as we promised or even sooner and after that, we would properly arrange or assist on the shipment.
Cargos are usually shipped via courier, air freight or ocean freight. The choice of those options normally depends on your budget and expected delivery date. We are glad to give you advices of shipping for your projects if you need. More specifically, we could provide you the quote and estimated arrival time of each option based on our network of worldwide logistic partners.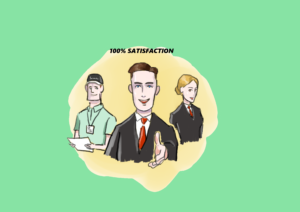 We are confident you will be satisfied with the products made in ZiiBoxes. We also believe you will be satisfied with our service and experience. But we know there must be something that we could make improvement. Therefore, please feel free to email us if there is anything you are not satisfied with. We are willing to listen to your feedback and do everything we could to achieve your 100% satisfaction.